General Information
Schuller Kitchens by Simmer & Soak
The Design Process
There are several ways to obtain a design for your new kitchen. If you would like to design your own kitchen or experiment with different layouts feel free to use the online design tool. If design is not your thing then why not take advantage our our kitchen design service. We make a charge of £150.00 for this service which is fully refundable against the cost of your kitchen. All we need to get a design underway are the dimensions of your room.
The Quotation Process
To obtain a quotation for your new Schuller kitchen simply send us the design you created with the online design tool. If you are taking advantage of our design service you will automatically receive a quotation for the completed design. Our prices are very competitive and we should be able to make you a significant saving.
Accepting a Quotation
If your happy with the quotation we have provided all we need is your acknowledgement via email. Once we have received this we will then prepare an order on our system for the contents of the agreed quotation.
Placing Your Order
To place an order we require confirmation that you are happy to proceed in the form of a written confirmation email. Once this has been received we will raise an order for your kitchen and place it on our system ready for payment.
Making Your Payment
A deposit payment must be made in via credit card. Once your payment has been successfully received we will then release your order into manufacturing with our German manufacturing partners Schuller. If you wish to cancel your order for any reason this must be done within 7days of making your payment. We must receive written notice that you wish to cancel your order. After 7 working days we are unable to withdraw an order from manufacturing.
The Delivery Process
Once your order has been processed we will provide a provisional date for delivery. This date will be confirmed to you once your kitchen has entered the manufacturing stage which is approximately 7 days after your payment has been received. Several days prior to the confirmed delivery date you will receive an email from us which details how to receive your kitchen delivery and how to check the paperwork and what to do in the unlikely event of damages. We would always recommend that you take time to read our Terms and Conditions of Sale which are available here
Service and Aftercare
Your new kitchen is protected by a 5 year warranty. This cover's the furniture manufactured by Schuller against failure. This warranty does not cover accidental damage, or damage to the manufactured furniture incurred during installation. We provide a general care leaflet which outlines how to care for you new kitchen. We recommend that you read the care guidelines supplied with you kitchen.
UK delivery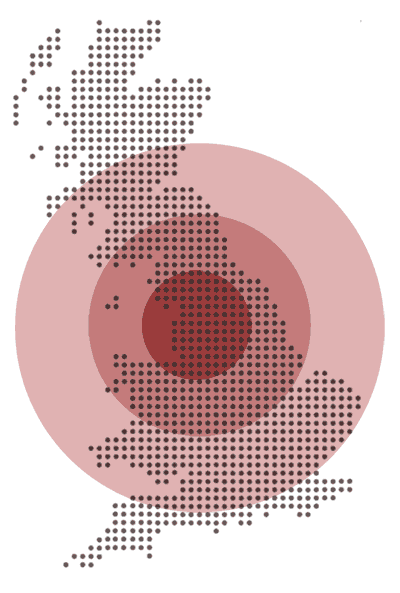 Zone A - £190.00
Zone B - £120.00
Zone C - £90.00
We deliver to most locations across the UK. Use the map above to get an idea of the delivery cost to your area. We always provide an exact cost for delivery during the quotation process.
Call 0191 414 2438 for help and information about the delivery process.